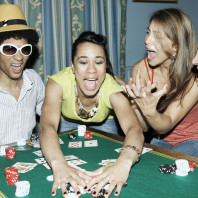 Trisha Barita
April 12, 2013
The news this past week on the Texas gambling movement is that the Texas legislature will potentially revist the issue of gambling in Texas.   I have been hearing about gambling in Texas since the day I was born.  There is always a rumor here or there that it might happen and then nothing happens.  So I, like most Texans,  ignore the rumors because they always seem to be quashed before they amount to much.  I am not sure this one is different, but the legal issue being offered is a Texas constitutional amendment allowing Texas voters to be allowed to VOTE whether gambling should be allowed in the State of Texas.  One potential reason for attempting to get gambling to pass through a constitutional amendment is that it does not involve the Govenor of Texas in the process.  According to reports, Governor Rick Perry has pledged to veto any casino gambling bills that cross his desk.  To allow voters to decide the fate of legalized gambling in Texas by an amendment to the state constitution, it will requires a two-thirds vote  from the Legislature and a simple majority vote of the electorate.
As it is written now, it would appear to include limited amounts of casinos across the states, casino style games, slot machines and some expansion of the gambling including possibly poker and other Vegas style gambling at the horse tracks. Pro-Gambling supporters argue that instead of Texans spending billions in gambling in Texas, that money is being handed over to States like Oklahoma and Louisiana with lax gambling laws.   Anti-gambling groups oppose gambling for various religious and non-religious reasons including that it is harmful to the community and can bring more crime into the community.
If they ever get it done and the Casino Gambling question is at the ballet box, you might start thinking which way you would vote.  The bigger question might be is whether that day ever comes.  Personally, I wouldn't bet on it.  Would you?